Each Class is a Complete Meal
Call first to confirm time and location: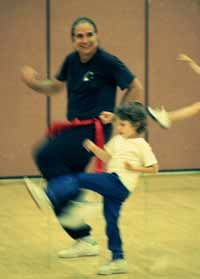 Buddha Zhen 818-723-2769
Group and private lessons are structured the same:

Stretching
Stances
Punching and Kiciking Drills OR Qigong Breathing Exercises
-- WATER BREAK --
Bookwork
Old Lesson
New Lesson

Using

traditional Northern Shaolin Kung Fu,
Yang Style Tai Chi,
Sil Lum 5-Animal,
and Chinese Jing-Mo Association Martial Arts
we have many curriculums to utilize and combine for your personal training.

Buddha Kung Fu consists of 3 certificated curriculums:

Buddha Kung Fu
Buddha Tai Chi
12-Step 12-Week Kung Fu Bootcamp
Bring your body, your mind, and your spirit to Buddha Kung Fu. Our Kung Fu, Tai Chi, and Qigong has been taught in prisons, rehab centers, elementary schools, middle schools, high schools, colleges and continuing education programs. Our curriculums have been taught in eight years of YMCA classes, two years of YWCA, and eight years for the Los Angeles Department of Parks & Recreation. With hundreds of improved lives and the experience of personally training every one of these students and disciples, Shifu Zhen Shen-Lang "Spirit Wolf of Truth" (Buddha Zhen, born Richard Del Connor 1954), is teaching from North Hollywood, California in 2015.
Sign up now for this rare opportunity to work with Buddha Zhen.

He will improve you.